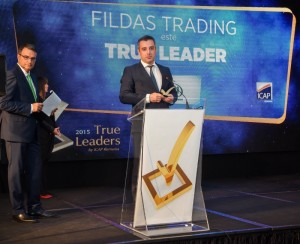 Romania's top companies, which stood out in 2015 by meeting simultaneously four objective criteria, were awarded during the "2016 TRUE LEADERS" ceremony, held by ICAP Romania. The four criteria taken into account were:

Increased profitability (among the top 500 companies in Romania based on EBITDA);
An increasing number of employees;
A low credit risk (ICAP credit rating from A1 to B2);
A leading position in their industry.

The leader in the pharmaceutical industry, FILDAS Trading was awarded the TRUE LEADERS 2015 Trophy. The award was handed to Mihai Drumea, FILDAS Chief Financial Officer, while Dragos Mihai, General Manager FILDAS Trading, was in attendance.

86 companies from all fields of activity were awarded the TRUE LEADERS 2015 Trophy at the event organized by ICAP Romania at the Stejarii Country Club and hosted by journalist Lucian Mandruta.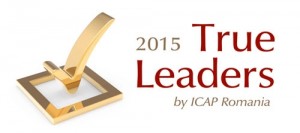 "Through this event we celebrate, for the first time, the healthy entrepreneurship and positive business practices in Romania", said Alexandra Predeanu, Country Manager ICAP Romania. "Our goal is to offer public recognition and to promote the companies that managed to stand out by meeting simultaneously all criteria established by ICAP, the only institution in Romania that rewards companies having met those criteria objectively, without the interference of the subjective opinion of a committee or by means of an open research. I would also like to mention the fact that the TRUE LEADERS list of winning companies was put together from the 2015 official data, acknowledged by the ICAP Credit Rating!"

ICAP Romania is member of ICAP Group, the largest business information group in the Southeast Europe and one of the few companies in Europe accredited by the European Securities and Markets Authority as "Credit Rating Agency".

Congratulations to FILDAS Trading for its TRUE LEADER 2015 Trophy!

This year, FILDAS and CATENA Group was also the recipient of the Award for Excellence in the pharmaceutical field at the Romania's Top 100 Companies Awards Gala.