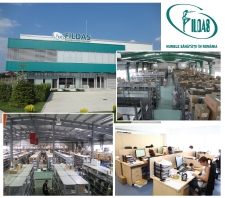 Fildas Trading became the most valuable Romanian pharmaceutical company in 2016 and the fifth most valuable domestic private equity business, according to data from the "Top 100 Most Valuable Companies in Romania" Directory, prepared by Ziarul Financiar.
"Top ZF 100 Most Valuable Companies in Romania" reached its 11th edition, being the longest-running and most complex domestic business journalistic product that reflects the dynamics of the Romanian economy. The top is based on the assessment of the main Romanian companies, performed by BT Capital Partners (BTCP). The assessment was performed on the basis of the last year's extended balance sheet of unlisted companies and stock market capitalisation on November 1st, 2016 for listed companies.
In this year's edition, Fildas Trading went up 12 positions in the overall ranking, from position 68 to 56, and is ranked first in the pharmaceutical field.
In addition, Fildas Trading is ranked 5th among the most valuable Romanian companies with Romanian capital (after Transilvania Bank, RCS-RDS, Dedeman and Altex), in a context where only 10 such companies are present in the overall top 100. One year ago, their number was 25.