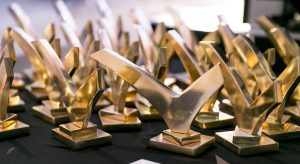 On the occasion of the "TRUE LEADERS" ceremony organised by ICAP Romania, the top companies in Romania were awarded, which have managed to stand out in 2016 by simultaneously fulfilling four objective criteria:
– among the top 500 companies in Romania by profitability (EBITDA for 2016)
– increase in the number of employees (2016 vs 2015)
– low credit risk (ICAP Credit Score from A1 to B2)
– leaders in their industry
Winner and leader of the pharmaceutical industry, FILDAS Trading was nominated TRUE LEADER with EBIDTA of 114 million RON, with a 9% increase in the number of employee and A2 ICAP rating. CATENA HYGEIA is TRUE LEADER, with EBIDTA of 27 million RON, a 14% increase in the number of employees and A2 ICAP rating. Noteworthy that last year, FILDAS Trading was TRUE LEADER for 2015.
FILDAS Trading and CATENA HYGEIA were represented at the ceremony by two of the Group's top managers, Lavinia Heihal and Adriana Parvu.
The event was hosted by Virgil Iantu and the hosts were Nikitas Konstantellos, President & CEO of ICAP Group and Alexandra Predeanu, Country Manager of ICAP Romania. Paula Pirvanescu, State Secretary, Ministry of Business, Commerce and Entrepreneurship, was also among the guests and spoke about the "Business environment status in Romania", "Business Review" – Foreign Investor Award team, headed by Ovidiu Posirca, Senior Editor, along with dozens of businessmen, presidents and chief executives of large companies, most of them winners of the "True Leaders" Awards Gala for 2016.
ICAP Romania is a member of ICAP Group, the most important business information group in the South East Europe and one of the few companies in Europe accredited by the European Securities and Markets Authority as "Credit Rating Agency".
The ICAP rating provides an estimate of the corporate credit rating in terms of repayment capacity and / or bankruptcy risk over one-year time horizon. This rating is based on the analysis of the commercial, financial and transactional information in the official sources and on the comparison of the company under assessment with those of the relevant business sector.