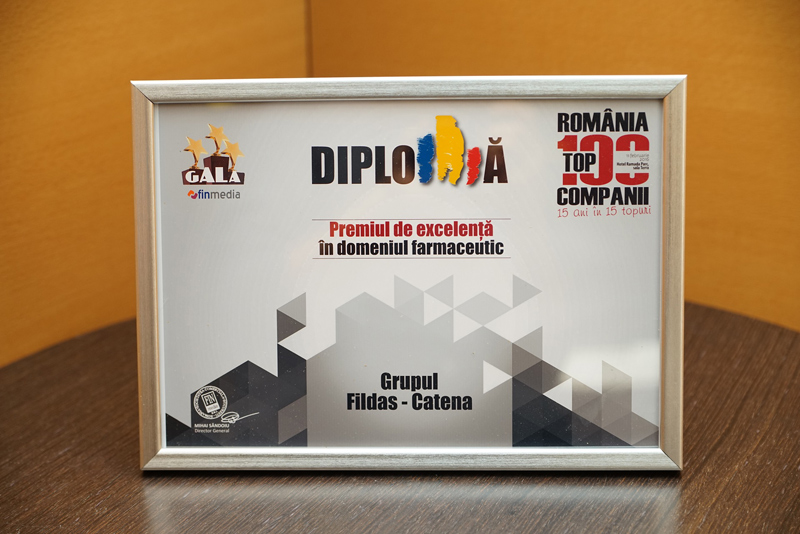 Fildas and Catena Group were the recipients of the Award for Excellence in the Pharmaceutical Field at Romania's Top 100 Companies Awards Gala 2016, organized by Finmedia.
The award was collected by Mihai Drumea, Executive Director of the group. "This award means a lot to us. Thank you on behalf of Fildas and Catena team! (…) And our team is definitely not small! Nowadays, 25 years later, we count a team of roughly 4,500 people. The Pharmacy of the Heart is, for us, more than a mere slogan, it is a way of working, so we give our best so that our 5 million loyal customers receive the best services!"
The 15th edition of Romania's Top 100 Companies Awards Gala was a special event, celebrating Romania's top businesses promoting and recognizing the results, evolution and performance of local companies.
The event was hosted by journalist Daniel Apostol and it was opened by the round table discussions attended by State Secretary Gabriel Biris, Ministry of Finance, Professor Cezar Mereuta, PhD, Associate Researcher at the Center for Economic Modelling of the Romanian Academy, Dan Schwartz, Managing Partner and Co-founder of RSM Romania, Adrian Vascu, Senior Partner Veridio, and Andrei Nagy, Enterprise Account Manager IBM Romania.
The event included as well the presentation of the study conducted by Professor Cezar Mereuta, PhD, on the evolution of Top 100 companies during the 2000 – 2014 period. He highlighted the increased attention that large companies should receive: "The conclusion is difficult to accept, but it is as real as it gets: companies with over 500 employees have become the driving force of general profitability. For over 20 years, we have organized numerous events for small and medium-sized enterprises, now it's time to focus on the over 1,000 large companies in Romania, in order to see how we could bring Romanian capital companies on this path to increase competitiveness. As a result, we must use the second option of aggressiveness. Not only to attract foreign companies on the Romanian market, but also to attract more Romanian entrepreneurs. And now we have to pay special attention to creative services that show great potential!"